Welcome to "Two Dopes Two Nopes," where we highlight cool things (things that are dope) and not-so-cool things (nope) across style, culture, and art. Let's jam.
NOPES
1) Grateful Dead
In 2012, a group of scientists discovered that a cluster of olfactory receptor genes, called OR6A2, are the receptors that cause some people to dislike cilantro. To this group of people, cilantro tastes like soap. It's terrible. They can't touch the stuff.
In 2023, the MGRS team made a similar discovery: that the American rock band Grateful Dead is also terrible. 
What is the connection? Well, Cilantro and the Grateful Dead are the same. Both phenomena must be related to genetics, because so many people love this band. We know these people. Some of them are friends. They are hardworking folk that that dress well and say insightful things and have promising careers. So the only explanation is that our jam-band OR6A2 receptors aren't firing. We just don't get it...
The melodies, the lyrics, their voices, the "wah-wah" of the guitars --  the best way to put it, is that Grateful Dead doesn't sound good when it goes into my ears. Their music sounds like soap tastes. #bornthisway
2) Low Rise Pants
Nowadays it is common to see dudes wearing low rise pants, or wearing pants too low on their hips. It's also unfortunate, for a few reasons:
Too low a rise makes it so you can't actually tuck in your shirt (or MGRS Tee) correctly. It will either be too bunchy or keep coming untucked.

Your torso looks longer and your legs look shorter than they actually are, throwing off the balance of your silhouette. Looking shorter is not awesome. Just ask our friend Caddy Brooks.

A low rise will exaggerate any extra weight you carry in the mid-section. Ask me.
Fortunately there are easy fixes. First, pull your waistline up to or above your hips, as most guys assume their hips are lower than they actually are. Second, buy mid-to-high rise pants (mid rise is between 9-11 inches, and most companies will tell you the rise specs in the product description. Dress pants almost always have a higher rise). If your tuck isn't feeling right, a low rise pant is the most likely culprit. 
_______
DOPES
1) Long Song Intros
Check out Spotify's "Today's Top Hits" playlist and every song gets right into the verse (we played all 50, "I have spare time..." Tommy Boy). On Taylor Swift's album Midnights, she starts singing before the 20-second mark on every track. Same with 99% of country music. Maybe it's the rise of social media and shorter attention spans or maybe it's human nature, but people want their songs and WANT THEM NOW!
And while we love T-Swift and country music, sometimes it's beneficial to take it slow. Let the beat build. Like at a Boston Bruins game when the lights are off, the crowd is pumping, and the players are ready to hit the ice. See below for long some intros that we're getting into lately. **These songs are meant to be played loud. Preferably in the car. "If it's too loud, you're too old." 
1. "Anthem Part Two" by Blink-182.
"Mutt" almost made the list. Simpler times.
2. "Victory" Puff Daddy & The Family feat. The Notorious B.I.G. & Busta Rhymes
You could argue that Diddy's rap is NOT an intro, but it is. The strings come in at 0:20, horns section at 0:30, and Biggie at 0:52. B.I.G. recorded his verse the day before he was killed. Diddy also spent $2.7m on the music video. What a time.
3. "Right Now" by Van Halen.
F***king classic. 
4. "Right Above it" Lil' Wayne feat. Drake
The shortest intro on the list at 0:27. (*muffled voice*) "Kane is in the building..." Banger.
5. "Heat Above" Greta van Fleet
My buddy opened for Greta van Fleet and Metallica last year (shout out to Spence and Ice Nine Kills) -- they were awesome. They'll make you like Led Zeppelin even if you don't like Led Zeppelin. 
2) Kids' Leftovers
People say that being a parent is life's greatest gift. MGRS suggests 79% of this feeling can be attributed to your kids' leftover food. For years, we felt pressure to say "umm, I'll have the risotto," "hmm, may I have the steak frites?" or "oh jeez, well the salmon sure does look good..."
I was lying. Lying to everyone at every table in every restaurant and lying to myself. Society tells us to grow up and become serious adults, but secretly we all long to order off the kids' menu.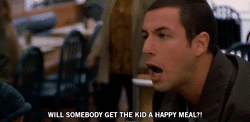 Burgers, fries, pizza, grilled cheese, tendies, mac & cheese. One MGRS employee ate (conservatively) 900 cut-off peanut butter and jelly crusts in the last 24 months. Being a dad is a MF'ing gold mine.
People also say that children will "keep you young," and this opinion has been tested. Researchers in Guatemala found that the more children a mother has, the longer her telomeres (the protective ends of our DNA), and telomere shortening is directly linked to aging. But...did the researchers account for the leftovers? No, of course they didn't, because of lazy science (thanks Fauci). More kids equals more grilled cheese, and a positive correlation to a longer, happier life.
If you're enjoying the blog, we'd be pumped if you tell your friends.
Have a great week, my friends, and #KeepItTucked